TTE Technical Training Facilities
Delivering Excellence in our unrivalled facilities.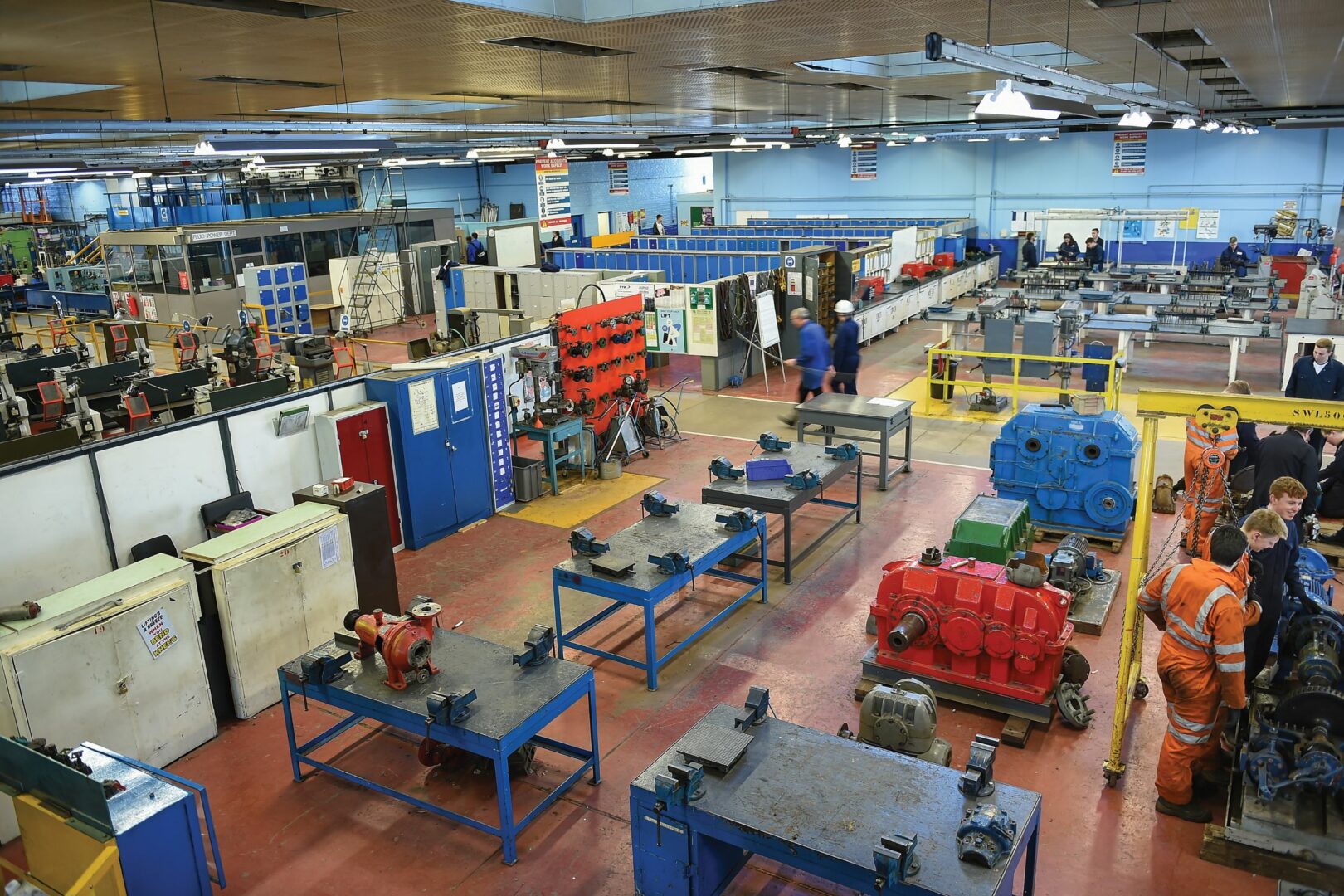 TTE has been at its current site on Teesside since its formation in 1990. The site is capable of supporting production and engineering training to in excess of 400 technicians at a time. The centre is well equipped and comprises of 30 classrooms, a 2968m2 Engineering Workshop, a 309m2 Fabrication Workshop and a 337m2 CompEx Workshop which holds 10 CompEx EX1-4 bays, 6 CompEx dust bays and 4 Mechanical CompEx bays. In addition, we have 3 dedicated IT Suites for use by learner.
TTE has invested heavily in equipment having spent more than £3.5million in recent years. In addition to investment in equipment, the centre has undergone several substantial refurbishments, with the most recent costing in excess of £250,000 and a huge further investment is planned that involves a new build in Middlehaven to be closer to the main College campus in 2024.
Facilities within our engineering workshops include dedicated electrical, mechanical and instrumentation areas plus process plants, laboratories and a process simulator.
TTE innovative pilot plants – reality with risk
TTE has two fully functional process pilot plants. The plants can be operated on a 24-hour shift system with technicians starting, running and shutting down the plant. Technicians undertake online sampling followed by laboratory analysis to ensure product quality. Each plant has NVQ Level 2 Accreditation for Process Industry Operations.
The facility comprises of a batch process, analytical laboratory and distributed control system situated remotely from the plant. Communication between this remote control-room is via fibre optic link, CCTV camera and DAC communications interface.
The facility provides an ideal opportunity for existing and potential control room operators to gain real 'hands-on' practical experience of operating, and maintaining an industrial plant in a controlled, safe environment. These superb facilities are used as an integral part of the training of all engineering and production technicians.
Furthermore, TTE has a dedicated instrument workshop with calibration facilities and simulated process plant. A flow rig is used to demonstrate the operation of different types of flow meter.
'Three-phase' separator plant (oil, gas & water separation)
This facility comprises of two three-phase separators and associated equipment (constructed in clear perspex to visually enhance the separation process) and a distributed control system situated within the main engineering workshop. Communication between the remote-control room is via hardwire link.
The separation training skid consists of a variable speed air blower (to provide "gas" at varying flow rates), oil and water storage tanks, variable speed oil and water pumps (to provide oil and water at varying flow rates), in-line mixers to enable the creation of the "reservoir fluid" to be separated, two three-phase separators which can be run as stand-alone units or in series and a secondary knock-out vessel.
The plant is governed by industrial standard safety systems (fire, gas and emergency shutdown systems), operating procedures, shift logs and a permit to work system. The skid is designed to be operated manually or remotely via a DCS supported control room.
The facility provides an ideal opportunity for technicians of all trades to gain hands-on practical experience of operative and maintaining an oil and gas process system and is accredited for assessment of competence in Process Operations Hydrocarbons (POH) up to Level 1.